This paper is drafted in French language. It summarises the new powers granted to RTE towards the failing balance responsible parties, in the framework of the energy prices crisis. Feel free to contact the firm if you need additional information or advice.
La Commission de régulation de l'énergie (CRE) avait adopté en urgence le 20 janvier 2022, à la demande du gestionnaire du réseau public de transport d'électricité RTE, une délibération portant décision relative aux règles relatives à la programmation, au mécanisme d'ajustement et au dispositif de responsable d'équilibre.
Cette délibération avait fait l'objet d'un précédent commentaire précisant le contexte et le contenu des nouvelles mesures. Elle renforçait temporairement les outils à disposition de RTE pour prévenir et remédier aux défaillances de responsables d'équilibre, dans un contexte de prix élevés sur les marchés de gros mettant en difficulté les fournisseurs d'énergie.
La délibération du 20 janvier n'avait pas été soumise à concertation préalable des parties prenantes. La CRE avait donc demandé à RTE de leur soumettre ces mesures pour avis. Alors seulement, le gestionnaire de réseau pourrait proposer une modification pérenne – éventuellement ajustée – des règles MA/RE.
Cette concertation organisée, RTE a saisi la CRE par courrier reçu le 31 mai 2022. Le régulateur a approuvé la modification des règles par une délibération du 7 juillet 2022. Ces modifications entreront en vigueur le 1er septembre 2022.
Certaines des mesures adoptées en urgence en janvier ont été pérennisées. D'autres ont été assouplies. Des nouvelles dispositions s'appliqueront également. En voici une synthèse :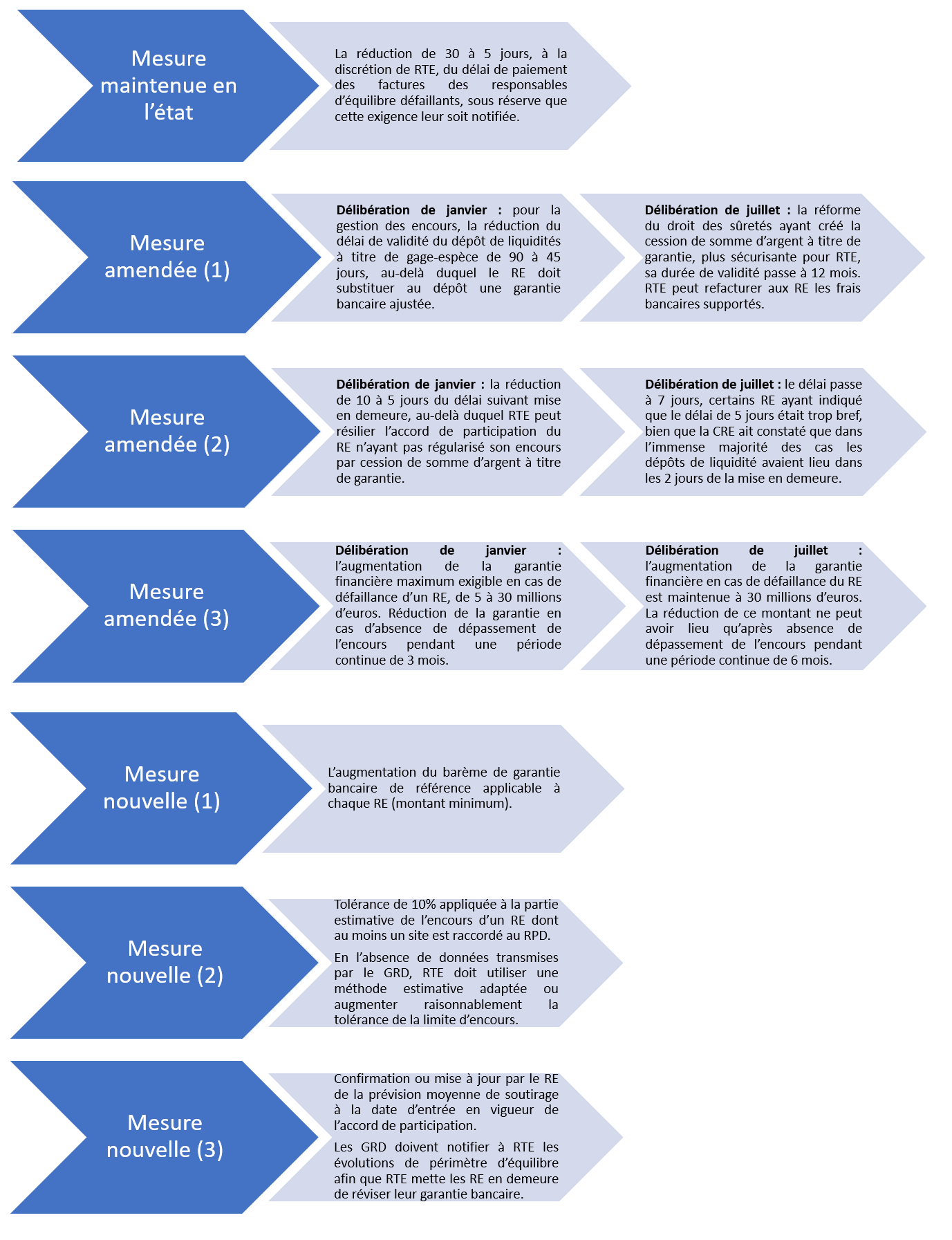 Back to articles